Just after solat asar.. Plus sejuk2 n cam malas nk bukak lecture slides.. hahaha... ayat org malas... alasan jer lebeyh... nevermind.. i'll start after this post.. hmmm... so tetibe teringat pasal duet.. btw guys.. have you all been saving this years? i mean since school? or time dah dapat scholarship ker?
hahaha... jgn la merah padam muke lak.. same la kite.. :P dapat duet kne r enjoy.. kate mude2 nih la nk bli mcm2.. kang dah tue sket sume salor kat anak2 lak.. :) hahaha.. satu hari nnt.. x kesah r... tp kne r berjinak2 simpan duet..
hmm... post kali ni nk share sket pasal investment... haha.. bukannyer forex trading.. nk gi menong2 kat stock market.. ape2 ker.. cume melabur kat bank... just simple as that.. tp bukan r account yg ader duet scholarship tuh... itu dividend brape sgt.. x sampai 1 percent.. hahahaha... pe kes???
Sume org taw PNB kan? kalau x taw pn penah dgr... or penah tgk kat tv.. or ape2 jer yg terpampang kat fikiran korang... PNB or Permodalan Nasional Berhad ni a big company yg bwat mcm2 mende... haha.. bawah die ader Amanah Saham Nasional Berhad... fully owned company by PNB yg menjalankan pelaburan utk pemegang2 saham die which is kite r.. hehe... penah dgr ASB? ASN? ASD? Amanah Saham 1Malaysia? hmm.. sume2 tuh ASNB yg manage... Jom kite tgk lebeyh details tentang one of the investment scheme funds yg ASNB provide..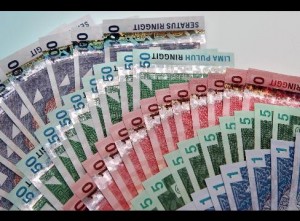 ( sambil menggeliat ) let's start... ASN...
Amanah Saham Nasional
adelah salah satu fund yg disediakan oleh ASNB... Skim nih paling awal diperkenalkan tahun 1981.. hahaha.. x lahir lagi den.. :P skim ni sbnrnyer utk golongan2 yg nk melabur tp tahu tentang risiko eg. bankruptcy.. penipuan n etc... so skim ni jd medium r utk golongan2 nih utk melaburkan duet dorang2 which is kite then bagi dividen yg berpatutan.. only for bumiputra yg berumur 18 tahun ke atas shj.. :P pulangan bukanla 100% tp utk jangke mase panjang or medium boleh r nk kasi kite some profit... latest dividen 2009 was 6.35% dari seunit saham yg kite bli... iaitu 1 unit = Rm1.00.. tp some 5% charge is charged kalau kite nk beli* unit saham.. utk jual blk saham which withdraw blk duet kite is Free of Charge ( FOC ) at anytime x de had... huhu.. and the dividen is given annually... maximum amount to buy is unlimited tp berdasarkan availability r.. :)
ok.. then we'll go to another scheme.. ASB..
Amanah Saham Bumiputra
.. another fund from ASNB jugak... launched in Jan 1990.. hahaha.. a month later a cute boy born at Hospital University Kuala Lumpur.. Skang jd Pusat Perubatan University Malaya.. PPUM.. :p ok2.. skim nih same jugak purpose die to invest our money for a constant profit which our capital is preserved in a minimun tolerance risk.. senang citer kite dapat profit tp modal x kan berubah.. amacam? goyang2 kaki duet beranak... Ade 2 jenis account.. Dewase.. Remaje.. Acc is Dewase 18 above n Acc Remaje kne ader penjage or ibubape yg umor die 12 - below 18 yg menjadi penjamin r lebeyh kureng... pulangan die latest 2009 7.30%... utk 2010 x habis penggal lagi.. :P u don't have any charge time nk beli* or nk jual blk unit saham tuh... same jugak.. at any time nk jual blk unit saham ( amek blk duet )... jadi kite x rugi mase r.. kasi PNB bwat keje.. kite dapat untung.. best x? haha.. tp this one ader limit.. 200,000 units utk dewase... which means RM200K r.. penuhkan r k... utk remaje 10,000 unit jer.. haha..so let make it a simple example... you have RM 10K...
all dividen is assumed 10.0% annually and capital is fixed.. ( contoh.. )
Jan 2009 - Rm 10,000.... Jan 2010 - Rm 10,000 + Rm1,000 (10.0%) = Rm 11,000
Jan 2010 - Rm 11,000.... Jan 2011 - Rm 11,000 + Rm 1,100 (10.0% ) = Rm 12,100
Jan 2011 - Rm 12,100.... Jan 2012 - Rm 12,100 + Rm 1,210 (10.0%) = Rm 13,310
see... from 2009 - 2012, in 3 years dah dapat extra rm3000 w/o any loss of capital.... ader r gak benefit kan? kirenye menyimpan sambil melabur.. kill 2 birds with 1 stones...
hmm... last but no least r.. ASD..
Amanah Saham Didik
... Skim nih same jugak.. Ader Acc Remaje aka Acc Bijak n Acc Dewase.. Utk dewase same jugak.. 18 above but yg Acc Bijak tuh same cam syarat2 yg kat atas tuh -> ASB Remaje.. huhu... pulangan latest die tahun 2010 6.35%... huhu.. nk beli* or nk jual blk unit saham FOC jugak.. n at anytime.. no limit for the investment means kite leyh beli byk mane yg kite nk depends on the quota.. :)
So u get what i wanted to share? haha.. nmpk cam pening but nnt tnyer your parents about it.. Insyaallah dorang akan explain lebeyh details.. :) basically sume macam mane nk manage our extra money.. student2 nih dapat rm50 sbulan simpan pn ok ape? kan? at least dah keje nnt ader r gak savings.. :) x de r start from 0.. telor ayam...
Anyway... This is just an option for all of us.. Ader lagi byk fund2 lain.. huhu... Search for it.. Kalau ader mase then i'll post it again k.. :) no problemo.. Sharing is caring.. haaa.. yang dapat MARA... JPA... duet belebeyh2 simpan r.. bukan utk org lain.. untuk diri sendiri jugak.. :) duet bukan nk kasi beku.. kasi die bercambah.. :D hehee... Jumpe lagi dalam post akan datang..
* nk beli unit kne r tgk availability.. tp selalu leyh jer... huhu... availability means kalau nk simpan RM1000 tp unit available cume 900 unit so Rm900 je la kne simpan.. hehehe... so yg lebeyh masok la savings account.. :)